At long last the nice weather has arrived in a big way to Massachusetts!! I'm loving walking around the yard and seeing what's starting to sprout up – are you as excited as me that spring is here?
Over Easter weekend, we cleaned up the yard a bit and at the end of the day, turned all the branches and twigs the winter had bestowed across the lawn into a roaring fire, and enjoyed our new outdoor space.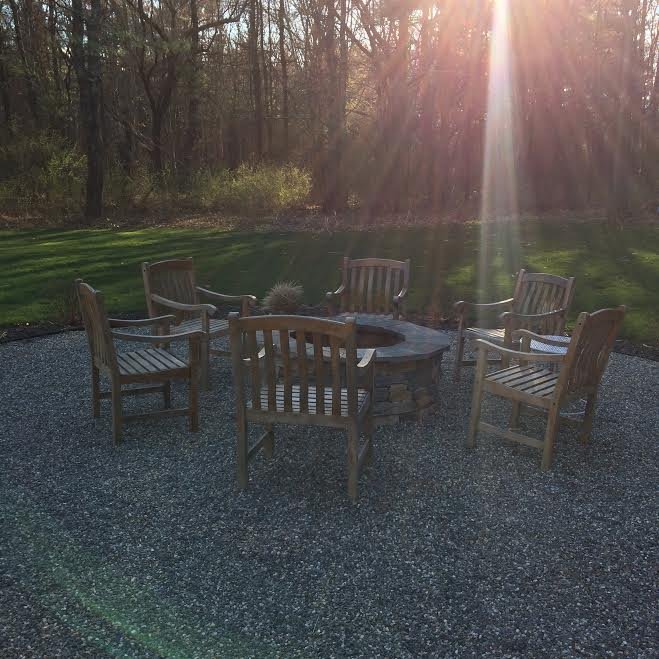 This time last year I was scheming on how to create this pea stone patio and build a fire pit. I have always loved pea stone patios, and envisioned one off of our deck since we first bought our house, surrounded by tall blowing seagrass and hydrangeas – a little outdoor room for hanging out with friends and family under the stars, with music on and a fire blazing and everyone actually having conversations instead of looking at their phones 🙂
The landscaping is going to be a work in progress over the next couple of years, but the patio and fire pit dream finally came to pass with a little help from our kids, and we have been loving this little spot so much!!
This was a DIY from start to finish, with no prior experience at tackling most of these tasks, and I chronicled each part of the project over the course of several months. Today I thought it would be helpful to share all the steps involved with links to tutorials for each of them, in the event you are considering installing your own stone fire pit and pea stone patio this year!
Note that the steps might seem out of order because I got ahead of myself and ordered the pea stone before the fire pit was done. In retrospect I would have waited and had the pea stone delivered at the very end.
---
HOW TO DIY A STONE FIRE PIT & PEA STONE PATIO, START TO FINISH
PREPARING THE SPACE FOR YOUR PATIO
After I spent hours trying to remove grass to make way for the new patio, my son and I rented a sod cutter machine and a tiny little trailer, figured out how to use it and got the job done swiftly.
The machine cuts underneath the grass, which can then be rolled up and used elsewhere (I gave the sod away on our town's Facebook yard sale site.)
When the sod is all removed and the area cleaned up, you're ready to roll!!
BUILDING THE FIRE PIT
INSTALL STONE VENEER TO THE FIRE PIT BASE
I used a cast cement fire pit base from Stone Farm Living, typically used by pros, to create this built-in fire pit. We had seen fire pits using these bases at a stone yard and really loved the finished look.
I bought real stone veneer at a local stone yard. The manager and guys that worked there were SO helpful, and gave me lots of advice and tips for a newbie mason. Read all about that here.
BUILDING THE FIRE PIT
INSTALL FIRE BRICK AND LINE THE BOTTOM OF THE FIRE PIT
Fire brick is a special kind of brick that can stand high heat without cracking and will help your fire pit to last for many years with little maintenance.
You can line the bottom of the pit with fire brick too, but we opted to use regular play sand, which has proved to be very easy to clean up.
BUILDING THE FIRE PIT
To finish off the fire pit, add a stone top. I figured out a DIY way to do this and we love how it came out.
See how these stones were cut and installed to create the fire pit capstone.
FINISHING THE PATIO
INSTALL GARDEN EDGING AND PEA STONE
The last step in this project is to line the patio area, edge it with metal edging or stone, and then spread pea stone.
Metal edging doesn't look so pretty in and of itself, but it makes a world of difference in the lines of your patio and garden. Once the landscaping grows in and the garden beds are mulched the metal edging disappears.
Check out the tutorials for every single last detail on how to DIY your own pea stone patio and stone fire pit.
UPDATE | Check out how this DIY patio has progressed into 2019 as the landscaping has grown in and we finally got some permanent furniture for the space! It's truly one of our favorite parts of our home that our whole family helped to create.
If you have any questions that I haven't answered in the tutorials, let me know!
Pin this post for later!