A while ago I read these tips on what NOT to do with mirrors and I had to laugh.
I'm just a rule breaker I guess…..I have mirrors hung both in between windows and over our mantle.
My feeling on mirrors is that a house can never have enough.
They maximize the natural light in a room, open up spaces and make them feel more polished.
I think the main consideration when placing a mirror is what the mirror will be reflecting.
Natural light? Gorgeous fireplace? Something pretty? Okay then – go for it.
Even if it means breaking the "rules".
A mirror ended up between two windows in my living room as a placeholder when we were hosting family for the holidays a couple years ago and the wall needed something.
I threw a mirror up there as quick fix and ended up loving how it reflected the bay window in our adjacent dining room. At night the mirror reflects the lantern over our dining room table and the wall o'bookcases and makes the space feel cozy.
And I think it's a necessity that every Christmas tree be reflected in a mirror.
THAT is my rule. 🙂
Nope – definitely not feeling a spatial void.
Now that the room is coming together, I'm on the hunt for the perfect mirror since the placeholder is a bit too wide.
There are too many pretty mirrors out there in the world!
Bamboo Crackle Wall Mirror Brass // One Kings Lane
Maya Inlay Mirror // Serena & Lily
Wellen Pine Oversized Mirror Natural // One Kings Lane (also comes in gold)
Blitzen Wall Mirror // One Kings Lane
Gaia Floor Mirror // One Kings Lane
This one below, I'm not sure if I love IT or the fact that it would be so easy to DIY 🙂
Lafayette Wall Mirror Navy // One Kings Lane
What I really want….
another shell mirror.
A few years ago
I made this shell mirror
for our master bathroom with shells we had collected from our family travels to Florida and Cape Cod.
I wanted it to have the look of shells being washed up on the beach en masse like they are on Sanibel & Captiva Islands, places that are near and dear to our hearts.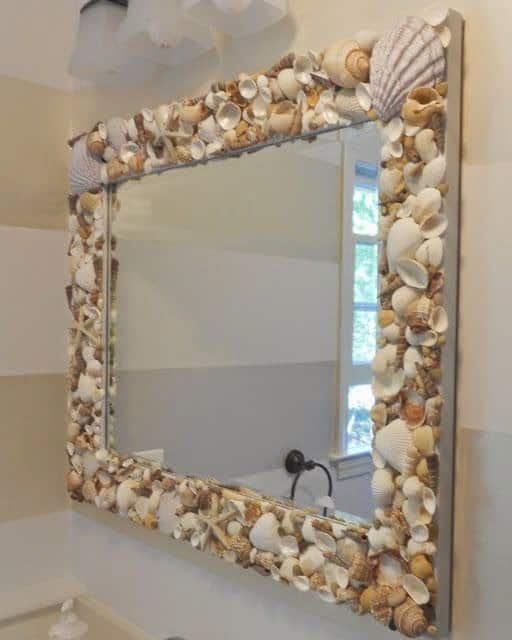 This is hands down my favorite artsy craftsy thing I have ever made.
But here's the thing.
We don't live near the ocean
so I go back and forth about decorating with a lot of coastal touches in a home that is not near the coast.
However….
I think I'm getting too old to care about such things.
It's our home, so why not decorate our home with things that remind us of places we love?
For the living room I'm toying with the idea of DIYing an oyster shell mirror like one of these.
Coastal Living
Oyster Mirror // Ballard Designs
Yep – I'm all decided.
A shell mirror.
But then again, there's this…..
Bungalow Mirror // Serena & Lily
(perfect…….except for it's price tag)
As you can see I'm a great decision maker about my own house 🙂
What's your favorite and/or do you have another fabulous recommendation for a tallish, skinny, interesting mirror for me?