Hello hello hello friends! Can you believe Christmas is just eleven days away???
If you are short on time and long on things to do, look no further for a quick and fun Christmas treat to share.
One of our favorite Christmas traditions in my house is making goodies to share with our wonderful neighbors and friends. I was inspired by Nettie's yummy-looking fudge at Moore or Less Cooking along with the addition of pretzels by Tracey from The Kitchen Is My Playground.  Since I had the ingredients on hand, I used my tried-and-true easy microwave recipe with pretzels for the most divine little number that's
a lil sweet, a lil salty, and a whole lotta irresistible.
It's the perfect treat to wish our friends and neighbors a Merry Christmas with, and I bet your neighbors would love some too!
Ingredients:
14 oz. can sweetened condensed milk
3 cups semi-sweet chocolate chips (milk chocolate or dark chocolate would be delish too!)
2 tablespoons butter
1 teaspoon vanilla extract
2 1/2  cups twist pretzels
Directions:
Prepare a square baking dish (8×8 or 9×9 will do) by spraying with baking spray, then fitting it with a long piece of wax paper that overhangs on two ends (so you can lift the fudge up and out of the pan later for easy cutting.)
Place about 2 cups of the pretzels in a large plastic bag, seal and whack away with a rolling pin or bottom of a pan to break up the pretzels. This is a great job for a feisty child or stressed out mama!
Place sweetened condensed milk, chocolate chips, butter (cut into little pieces) and vanilla extract in a microwave-safe dish and cook in 30-second increments, mixing between, until consistency is smooth (about 1.5-2 minutes).
Mix pretzel pieces into chocolate mixture and pour into prepared baking dish. Lay a piece of wax paper on top and using your hands, compress the mixture until flat and evenly distributed.
Top with remaining pretzels. I anticipated cutting the fudge into squares, each with a whole pretzel on top, so I placed the pretzels in neat little rows, but you can use broken up pieces or cut them any which way that floats your boat.
Chill for at least an hour. Using the wax paper overhang, remove from pan and peel away the paper. Slice into squares or bite-size pieces. Fudge will remain fresh for 2-3 weeks if stored in an airtight container and refrigerated.
Of course if you're going to be sharing your pretzel fudge you should absolutely have a piece or two, just to make sure it's okay, right???
I'm sharing this pretzel fudge recipe at Schue Love – come on over to check out tons of culinary delights for the holidays (and wish Natasha congratulations while you're at it – so much happy baby news this week!)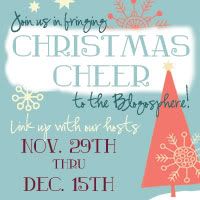 I hope you are finding some moments of joy in the Christmas season despite the busyness of this crazy month. Take a few moments to relax, savor a sweet and coffee with a friend, enjoy the twinkling lights of your tree, reach out to those you are grateful to have in your life, and share a laugh with those you love!